Colony Zero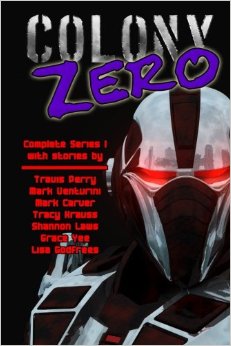 In 2810 they're called 'Zeroes' – criminals and misfits sent to die on a penal colony far away from Earth. However, a routine mission discovers a thriving colony instead. What other secrets does this forgotten planet hold? Three book Sci-fi series co-written by several authors. (Tracy Krauss - contributing Author)
About the Book
In 2810, they're called Zeroes.
Some Zeroes are born, somehow slipping through the genetic screening and purification tests in utero mandated by an overpopulated Earth. Others become Zeroes later, the worst murderers and thieves and abusers, despite the same genetic screening. Whether born or made, they are Earth's outcasts, the dregs, sent to a perpetually dark rock orbiting a Y-class brown dwarf star by a society without the patience or desire to deal with them.
The Relocation Ministry cites the humanity of the process, offering the Zeroes a chance at a new life. Yet the overcrowded world secretly knows with silent approval that they're sent to Colony Zero for one reason: to die. That is until the RM ship Valkyrie 2 arrives on a routine survey mission to retrieve core samples. It is on that dark wind-swept planet that the crew discovers a far different secret.
Series 2 and Series '0' (how it all started) were also available at the time of this posting.
Disclosure of Material Connection: Some of the links in the page above are "affiliate links." This means if you click on the link and purchase the item, I will receive an affiliate commission. I am disclosing this in accordance with the Federal Trade Commission's
16 CFR, Part 255
: "Guides Concerning the Use of Endorsements and Testimonials in Advertising."