A Midterm Eve's Phantasm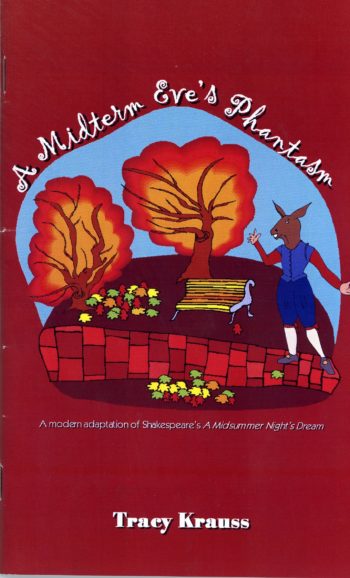 Based on Shakespeare's 'A Midsummer Night's Dream' this modern remake in a high school setting is full of surprises.
About the Book
Audiences will love this madcap, modern adaptation of Shakespeare's A Midsummer Night's Dream. Denny, the captain of the football team, has his sights set on taking Mia to Stratford High's spring dance, but Mia has fallen head over heels in love with Lyle, a new student with a shady reputation. Determined to break up the couple, Mia's father makes plans to send Mia away to live with her aunt. Not wanting to be separated, Mia and Lyle decide to meet that night at the park and run away together. However, the unsuspecting couple encounter a band of trouble-making fairies that have congregated at the park and are eager to create a bit of mischief. Chaos ensues when Puck, an impish sprite, casts a spell causing the fairy queen to fall in love with a student actor who has been transformed into a donkey. And to make matters worse, Puck casts a spell that makes both Denny and Lyle fall madly in love with Mia's best friend. After all, "The course of true love never did run smooth"!
Suitable for all audiences, this play has a running time of 60 minutes with a flexible cast of characters. Performance rights available through the

publisher

.
Disclosure of Material Connection: Some of the links in the page above are "affiliate links." This means if you click on the link and purchase the item, I will receive an affiliate commission. I am disclosing this in accordance with the Federal Trade Commission's
16 CFR, Part 255
: "Guides Concerning the Use of Endorsements and Testimonials in Advertising."