Fire Bear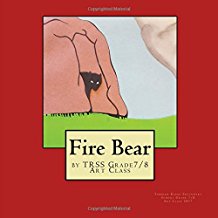 The forest is ablaze!
A curious bear is just minding her own business when a series of events trigger a huge forest fire in a nearby town. People and animals alike must flee for their lives! This illustrated children's book was a project completed by the Grade 7/8 Art Class of Tumbler Ridge, BC, and includes themes specific to the area.
Order Now!
About the Book
(I did not write this book, but helped the Tumbler Ridge Secondary School Grade 8 Art class publish it as a class project.)
Inside cover:
How this book came to be: Half of the students wanted to illustrate a book about a bear coming into town. The other half wanted to talk about a forest fire scare. They decided to combine the two ideas and this is the result. Enjoy!
Disclosure of Material Connection: Some of the links in the page above are "affiliate links." This means if you click on the link and purchase the item, I will receive an affiliate commission. I am disclosing this in accordance with the Federal Trade Commission's
16 CFR, Part 255
: "Guides Concerning the Use of Endorsements and Testimonials in Advertising."