Keeping Up With the Neighbours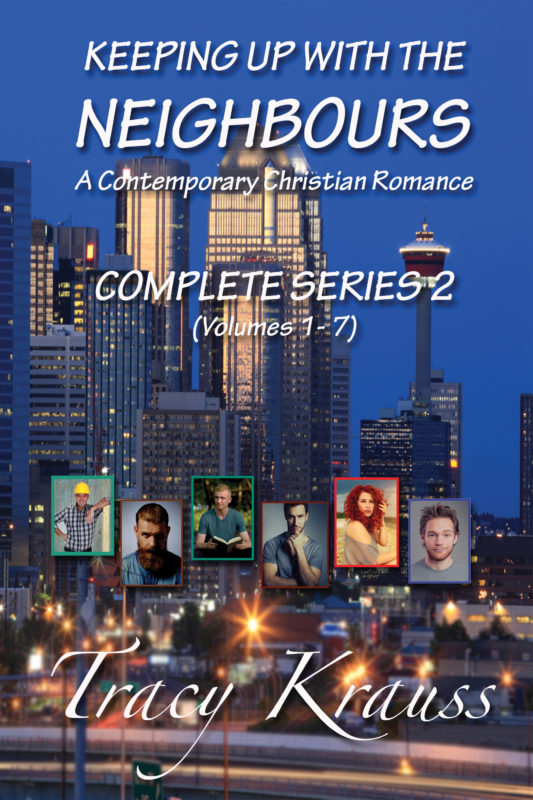 The Malloys are back in full force!
Look out! The Malloy family have taken over the neighbourhood, starting with Jed, whom we met in Neighbours Series 1. Jed is a down-home boy from Newfoundland who is a bit rough around the edges, but is the first to lend a helping hand when needed. His colourful and sometimes raucous siblings – Bo, Reba, Pip, Will, and Zeb – join him one by one in the western city of Calgary, Alberta. There's plenty of laughter, romance, and a few surprises, as the Malloy clan get together. In the midst of the surprises, a greater love than any one of them ever expected comes to call: The love that only God can give
Order Now!
About the Book
Jed Malloy first came alive in NEIGHBOURS Series 1 as a minor character who just wouldn't go away! Even though he had a small part to play in that first series, he made his mark with his quirky ways and 'down-home' manners. He soon became one of my favourites – and apparently yours, too, if reader feedback means anything! I knew I needed to continue the series and make Jed's large family the stars. As I began to write, I soon discovered that every member of Jed's family was just as unforgettable as he was, each in his or her own way. It has been a fun ride getting to know these folks better. In the end, it was even more special for me to see some of them come to know Jesus as Saviour. Welcome to the neighbourhood!
More about each individual volume – just click the link!
Note to readers: This series, although labelled 'Christian', does contain elements that may be troubling to some readers, such as the use of alcohol as well as pre-marital sexual encounters. (The latter take place 'off camera'.) There is, however, a faith based element throughout with a strong redemptive message at the end of the series.
Other Books in "Neighbors"
Disclosure of Material Connection: Some of the links in the page above are "affiliate links." This means if you click on the link and purchase the item, I will receive an affiliate commission. I am disclosing this in accordance with the Federal Trade Commission's
16 CFR, Part 255
: "Guides Concerning the Use of Endorsements and Testimonials in Advertising."