Neighbours: A Contemporary Christian Romance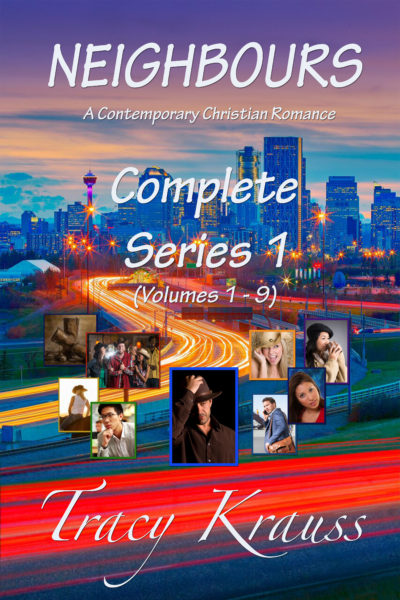 Nine novella length stories follow a cast of quirky characters living in the same Calgary apartment building. Mix ups, foibles, romance and intrigue finally bring them all together for the final episode. You just never know who might move in next door!
About the Book
Lester Tibbett, a former rodeo cowboy from Southern Alberta, moves to the big city for work – and to look out for his wilful teenage sister. In the process, he meets up with a cast of quirky characters, most living right in his own apartment building. With romance, intrigue, humour and a touch of the unexpected, the twists and turns just keep coming as the first 'season' of NEIGHBOURS unfolds.
This collection contains the complete first 'season' of the NEIGHBOURS Series – that's all nine volumes! Save 45% versus buying the individual volumes!
CLICK ON ANY TITLE TO READ MORE ABOUT EACH VOLUME!
Volume 1- New In the Neighbourhood
Volume 2 – Stuck In the Neighbourhood
Volume 3 – Sneaking Around the Neighbourhood
Volume 4 – Working the Neighbourhood
Volume 5 –  Back In the Neighbourhood
Volume 6 – Navigating the Neighbourhood
Volume 7 – Skeletons In the Neighbourhood
Volume 8 – Leaving the Neighbourhood
Volume 9 – There Goes the Neighbourhood
OTHER BUYING OPTIONS:
Part One: New In the Neighbourhood – audio version (Narrations by George)
Forward:
I love people watching. Airports, waiting rooms, shopping malls –these are ripe fields for the student of human nature. It was during one of these 'research' sessions that I started a list of possible characters that might make an appearance in one of my novels. As I began to flesh some of these people out, it dawned on me that I had an entire community. What if they lived in the same neighbourhood, or even an apartment building, where they could interact? I soon realized that several characters had their own unique story to tell, perhaps not long enough for a full-length novel, but perfect for a series. Thus NEIGHBORS took shape. I hope you enjoy meeting this varied, sometimes quirky, cast.
Other Books in "Neighbors"
Disclosure of Material Connection: Some of the links in the page above are "affiliate links." This means if you click on the link and purchase the item, I will receive an affiliate commission. I am disclosing this in accordance with the Federal Trade Commission's
16 CFR, Part 255
: "Guides Concerning the Use of Endorsements and Testimonials in Advertising."