The Western Tale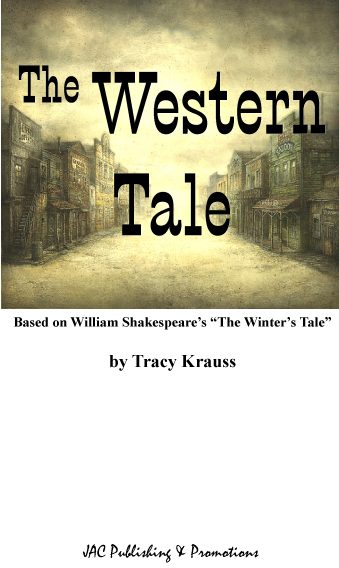 The Bard goes western in this dark comedy about jealousy, revenge and ultimate restoration.
About the Book
The Bard goes to the wild west in this two-act play that is anything but the typical western. The Western Tale, a loose adaptation of Shakespeare's The Winter's Tale, has a western setting, characters and theme. In the play, Big Leo and Doc Xavier have been friends since boyhood, until Big Leo's suspicious nature convinces him his wife, Ramona, and the Doc are having an affair. Following the original story line, he takes her to court where she collapses – apparently dead. He banishes her newly born baby in the wilderness to die, but his loyal ranch hand, Gus, secretly saves the child who is raised by some local squatters.
Fast forward sixteen years, and 'Pearl' (Leo's daughter) falls in love with Doc Xavier's son. You can guess the rest… In the end, Leo repents, Ramona reappears, everyone is reunited and they all live happily ever after. True to the original Shakespearean version, the play is a comedy but there are also some dark dramatic moments. The famous 'bear scene' remains, and Father Time has been transformed into a traveling 'snake oil salesman' named Otto, who also functions as the narrator. Running time – 80 minutes.
All performance rights apply – check with the publisher for royalty rates and information.

JAC Publishing.
Disclosure of Material Connection: Some of the links in the page above are "affiliate links." This means if you click on the link and purchase the item, I will receive an affiliate commission. I am disclosing this in accordance with the Federal Trade Commission's
16 CFR, Part 255
: "Guides Concerning the Use of Endorsements and Testimonials in Advertising."