I am not naturally an 'outdoor' person. I enjoy the beauty of nature, but more because of the aesthetic factor than the need to be outdoors. I am just as inspired by an art show or music, for example, as I am by a mountain vista or serene lake. Interestingly, I married a man who LOVES the outdoors. It doesn't need to be a breath taking view. He just wants to be outside. Period.
Over the years we have learned to accommodate one another. He will go to a gallery with me and I will go on an outdoor excursion with him. Here are a couple of pictures of us with his 'new to us' quad. I am trying to humour him by sitting on it. (Note the less than genuine smile.) He convinced me to take a ride, which was okay, but not the same kind of glee that he got out of it.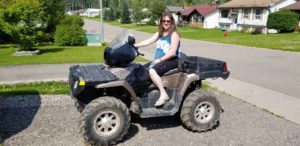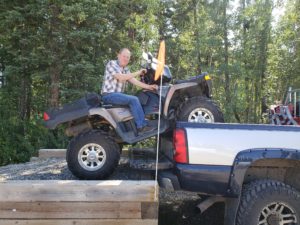 I guess the old saying goes, that opposites attract. We are living proof, closing in on 40 years of hanging out together.