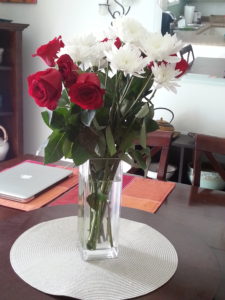 Shakespeare's Sonnet 116 is by far my favourite sonnet and possibly my favourite poem. It epitomizes the kind of unconditional love that I aspire to possess in my marriage and with my children, and I also think it is a wonderful metaphor for God's love. I've committed it to memory and have been known to quote it or use it in a card or two.
It is also very multi-purpose in that it works well for activities outside the usual 'Valentine' variety. I often ask students to analyze it in my poetry classes and I've even been known to give bonus marks for those who can memorize and recite it in class. I've also used it in my drama classes, getting students to recite it 'in character'. It's surprising how the meaning can change depending on the character's motivation.
Since Valentine's day is just around the corner, here for your enjoyment is the sonnet in it's entirety. Enjoy.
SONNET 116
Let me not to the marriage of true minds
Admit impediments. Love is not love
Which alters when it alteration finds,
Or bends with the remover to remove:
O no; it is an ever-fixed mark,
That looks on tempests, and is never shaken;
It is the star to every wandering bark,
Whose worth's unknown, although his height be taken.
Love's not Time's fool, though rosy lips and cheeks
Within his bending sickle's compass come;
Love alters not with his brief hours and weeks,
But bears it out even to the edge of doom.
   If this be error and upon me proved,
   I never writ, nor no man ever loved.