I'm sad to say that the fine folks at JAC Pub, the publisher of five of my stage plays, are retiring. Happy for them, since retirement is  GOOD, but SAD for me since it means they will no longer be representing me or distributing those plays. The deadline for purchasing from the publisher or on Amazon is July 30, 2019. After that, people can still purchase directly from me since I have stockpiled some copies. However, once those run out, I may have to think of a different plan…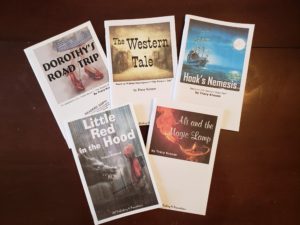 Affected plays are:
Dorothy's Road Trip; Ali and the Magic Lamp; Hook's Nemesis; Little Red in the Hood; and The Western Tale. 
I enjoyed seeing where each play had been performed when I got my yearly royalty cheques. They each had a small measure of success on stages across North America – something that I will definitely miss. I haven't decided what I will do come July 30. I could try to self publish, but I am hesitant to do so since plays are a very different animal than novels. Distribution is everything. 
Potential clients, mostly high school drama teachers and small community theatre groups, know where to find good plays and play publishers know how to market to them. Without that connection, it's doubtful I would have the same reach. I may try to re-pitch them to other publishers once the rights are totally mine again, but there is no guarantee that another publisher will want to take them on. I guess time will tell. In the meantime, I have copies!