What is Oma Camp? It was three sleeps and four days of intense fun! My two eldest granddaughters (aged 4 and 6) came over and we spent our time doing arts & crafts, acting, and just having fun around the theme of 'A Midsummer Night's Dream'.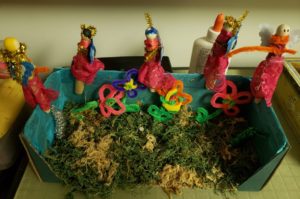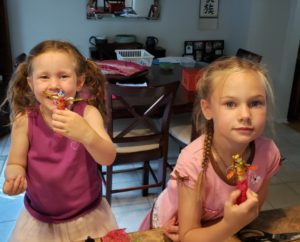 One of our first activities was making clothespin fairies and a fairy diorama for them to live in.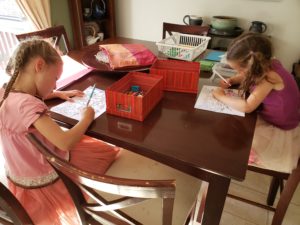 We also did lots of colouring – I found fairy pictures online as well as scenes from the play and some marionettes of some of the characters.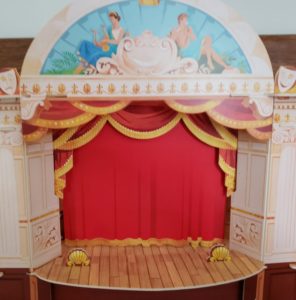 They brought their own 'Usbourne' Theatre which includes characters from this play and we also read several children's versions and watched some short videos.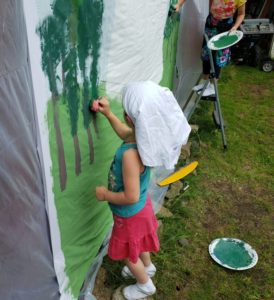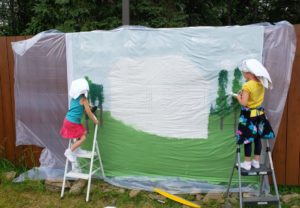 We acted out the play scene by scene and filmed it so that they can watch themselves later. We were able to film some of the scenes outdoors, but heavy rain one day made us move inside. Good thing we painted a large mural of Athens on a sunny day which we were able to move inside for later filming! While painting the mural, the girls learned about perspective, and painting trees and flowers with sponges.
Each girl had to play several characters so there were lots of costume changes! Even Oma got to be a few characters.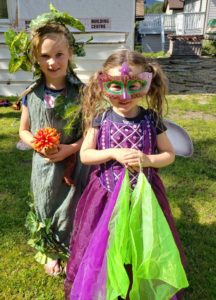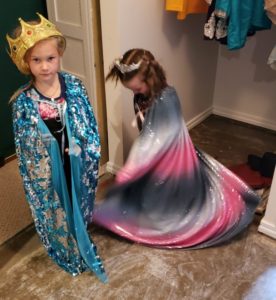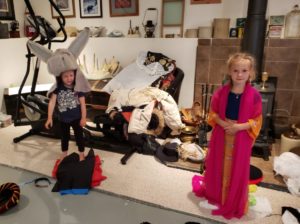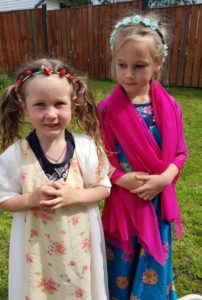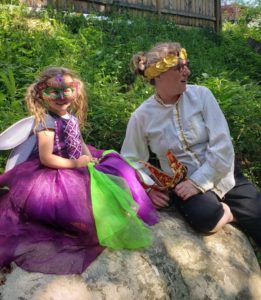 Thank you to 'Auntie Lydia' (my daughter) who spent much of her time with us during Oma camp. I'm not sure what I would have done without her! She helped film, helped with the puppet theatre and making puppets, and even played the parts of Lysander and Bottom. She was also invaluable for some much needed 'decompressing' when the youngest (only four) got overwhelmed and a bit homesick and needed some consoling…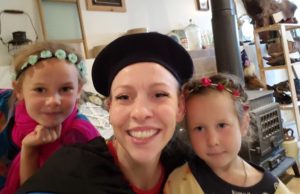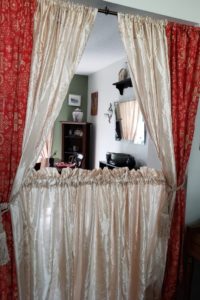 Each girl also painted a canvas picture – of fairies of course!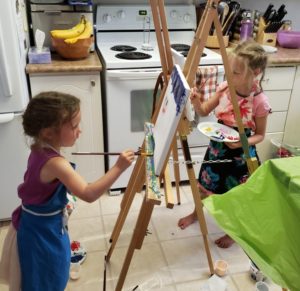 We had other fun, too – an outing each day, (shopping, going to parks, visiting Auntie Lydia…), afternoon tea parties, movie nights and more. Phew! I was exhausted, but a good time was had by all.
I think one of their favourite things was putting on a puppet play for their Mom and other family members who came for the final performance. The puppets' heads were made out of paper mache and depicted the silly actors who perform for the Duke and Duchess. (The play within a play – "The Most Lamentable Comedy and Cruel Death of Pyramus and Thisby") Such fun!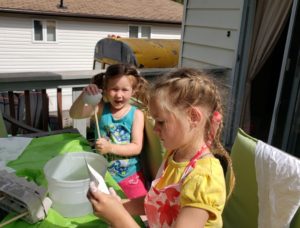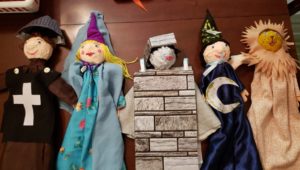 Here are a couple of future 'Oma Campers'! Not quite ready for a few years, but happy to get in on some musical fun!