One star reviews. Nobody likes them, least of all an author. When someone – usually a stranger – expresses their less than enthusiastic opinion about something I've written, it hurts. I'm not going to lie and pretend that it doesn't. The good news is, experts say a few less than stellar reviews actually add credibility to one's author platform, since nobody can appeal to everyone.
I get it when a person just doesn't like a book. There can be many reasons for this. However, the ones that I find most irritating are those that say something like, "This is just too religious for me." Duh! Did you read the blurb? Did it mention that this is a work of 'Christian fiction'? What about the keywords and tags? If the word faith, Christian, or inspirational is in there, chances are it will have those elements.
Somewhat more problematic, however, are those that are expecting a squeaky clean Christian read and find that my work may be a bit edgier than they had anticipated. A case in point is my NEIGHBOURS Series.  'A Contemporary Christian Romance' is right there in the subtitle, but several readers found it was not Christian enough for their liking.
I have since added a 'warning' label to the product description and I've made sure to include it on all future descriptions, especially as the sequel to NEIGHBOURS – KEEPING UP WITH THE NEIGHBOURHOOD – is currently being released. (Thanks to Beta reader, Violet, for making this suggestion.) Here it is:
NOTE TO READERS: Although this series is categorized as 'Christian fiction'
 

and has a strong redemptive message toward the end, there may be events that some Christians find troubling, such as the use of alcohol and references to sexual activity, although this always takes place 'off camera'.

In the end, I must content myself with the fact that many readers have given me positive feedback about the series, and even asked (repeatedly!) for the sequel. Unfortunately, not all of these readers like leaving reviews on Amazon.com or goodreads.com – the too most sought after places for reviews. Perhaps they don't understand the huge impact that reviews actually have on a book's sales. (Even though I've mentioned it a time or two!)

Here is my final appeal to any readers out there. If you read a book and like it, take a few minutes to leave a review. It means A LOT – probably more than you realize.

Having said that, if you've read any of MY books and liked them – please leave a review. ( I said please!) I would especially appreciate a few more positive reviews to balance the negative ones on the first volume of NEIGHBOURS. Things like 'This is too short" or "It ended too abruptly. It needs a sequel" kind of missed the point…   (It's a novella and it's supposed to end abruptly like a TV episode so that readers come back for the next part.) I could use a few more 'thumbs up' to boost its creds. *smile*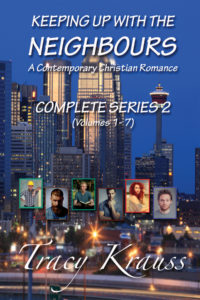 Also, don't forget that the sequel KEEPING UP WITH THE NEIGHBOURS is currently being released in instalments! Here is the line up:
Vol 1 – Neighbourhood Tangle – JED
Vol 2 – Neighbourhood Watch – BO
Vol 3 – Neighbourhood Rebel – REBA
Vol 4 – Neighbourhood Upstart – PIP
Vol 5 – Neighbourhood Freedom – WILL
Vol 6 – Neighbourhood Cupid – ZEB