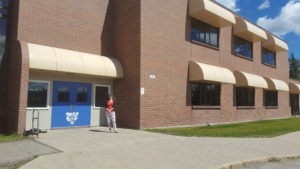 Well, it's finally official. I retired from teaching public school on June 29, handing in my keys and computer and saying good-bye for the last time. It is a bitter sweet transition for me. I have been longing for quite some time now to have more time to devote to my writing career and now that is a reality.
Teaching has been an integral part of my identity for much of my adult life. The truth is, I've been at it in one form or another for more than thirty years. I did my practicum way back in 1984 and went on to substitute for a few years until I got my first full time job in 1988! It was teaching Kindergarten of all things – me a Secondary School Art Teacher! It was a learning experience which made me realize I actually prefer teenagers to little children and I resigned after only one year to have my third child.
But… I continued to teach in one capacity or another from that day forward. I took the odd tutoring job, homeschooled my own children for nine years, and continued to be a 'Teacher On Call' in five provinces and territories until I took a full time job in 2001 as the Art, English, Drama teacher in Watson Lake, Yukon. After seven years there we moved to Tumbler Ridge and I've had ten years doing pretty much the same thing. Art, English, and Drama are all subjects I am passionate about and hopefully I imparted some of that same love to my students. (I didn't mind taking the odd Social Studies class, too, since I also enjoy history.)
I was treated to many fond farewells in the weeks leading up to the end of June. First there were the flowers, tears, and good-byes at our last Drama show June 20th.  Then there was a lovely farewell at our staff year end party on June 26. On Awards Day, June 27, I was surprised (yes, surprised even though I should have known something was coming!) by a very emotional speech by some of my former Drama students and I was presented with my ten year pin for service in School District 59.
Four bouquets and numerous lovely gifts later, the end has finally come. I know that God's timing is always perfect and believe this to be true at this time as well. Even though there are many things I will miss, I am looking forward to this next chapter.