Perhaps for the first time in my life, I spent Easter weekend by myself. I'm sure I wasn't alone… (Pun intended.) While I enjoyed a great online sermon, talked to family on the phone or via video chat, made myself a delicious meal, and watched a couple of Easter TV shows, it wasn't quite the same.
This is the new normal for now, but it makes me wonder what 'normal' will look like in the future. Like any catastrophic event, this is going to change things. We're all used to the rather invasive security checks at airports imposed since 9/11. World Wars and a myriad of other life altering events in the past hundred years have changed life as we know it, and this is not going to be any different.
I know some who are hailing this as the introduction to the 'One World Government' foretold in Revelations. Is this the beginning of the Apocalyptic era? I don't have that answer, and quite frankly, I am happy to leave it in the hands of the One who does. At the very least, this is one of the best Dystopian set ups I've seen and should spur on a new rash of novels and movies in that genre.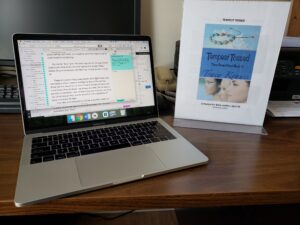 For my part, I doggedly continue filling my days with all the projects I have on the go. Writing Tempest Tossed is one main focus. I posted a while back that I want to have it finished for Beta Readers by April 30. While I'm not sure that is actually going to happen I am throughly enjoying my writing time each day. I suppose if I worked on it exclusively, I'd be farther along, but I have to admit I have a lot of other irons in the fire…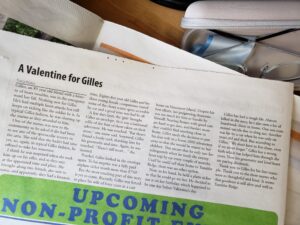 My friend Gilles and I have been meeting a couple of times a week (on ZOOM, of course) so that he can tell me his many interesting life stories. I wrote about Gilles in a post called 'A Valentine for Gilles' and since then we have been having a grand time as he tells me about his adventures. We might even get to publishing it some day.
I also signed up for Rosetta Stone and so far have kept up my daily German lessons. I decided its time to quit whining about the fact that I always wanted to learn languages but never did, or use the excuse that I'm too old and it's too late. Like my friend Jacqueline used to always say, "Age is only a number." It should never be used as a cop out. She was a vibrant and adventurous little French woman who didn't let the fact that she was a senior stop her from climbing mountains (or doing anything else she set her mind to do!) She died at age 87, still one of the people I admire most that I've met on this planet. After I master German I plan to move on to Spanish and French!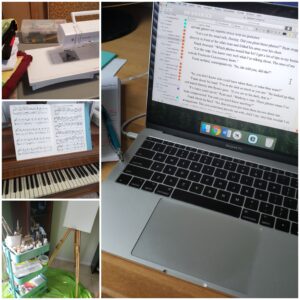 Also on my daily roster is practicing the piano. I took lessons as a child, begged my mom to let me quit, then took it up again the last two years I was in high school. I went as far as Grade Six Royal Toronto Conservatory, but quit again when I left home after I graduated. I taught my own kids the basics until they needed someone more advanced and have played a lot in church, but mostly by ear or just chording with the rest of the worship team. It seemed like now was a good time to get out those music books and start brushing up on my ability to read music again. I am getting so much enjoyment out of it!
Add a bit of painting, a bit of sewing, exercising each day, going for a daily walk, keeping up with my online marketing, chatting online with family and friends, not to mention my online teaching job, and my days are full! I am grateful for the time I have and the interests that keep me going. I really can't complain.
Do I want to live a life without physical contact, though? I don't think so! At the time of this writing, my husband has been gone for four weeks. He normally lives in a camp for two weeks at a time, but with the Covid 19 outbreak his employer decided to keep workers there for an extended period rather than have them coming and going. He'll be there for another five weeks – that's nine weeks all together! It is probably for the best since I am at a higher risk because of my heart disease, but it is definitely not what I signed up for!
So there you have it. Another post and another week of solitude gone by. Hang in there everyone, because it isn't over yet… And once it is, who knows what the new normal will be?