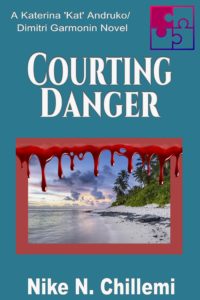 I am so pleased to feature a new book by Nike Chillemi – affectionately known as the 'crime fictionista'! Nike Chillemi and I have known one another for almost ten years, and even though we have not met in person, I consider her a 'real' friend! We first met on a site called 'Edgy Christian Fiction Lovers' and our relationship has gone on from there to serving on the board of the Grace Awards together, among other things.
I have thoroughly enjoyed many of Nike's past books including her Sanctuary Point Series set in post WWII, and her more contemporary Series featuring Detective Veronica Ingels, so when I heard that she was releasing a new series, I was more than happy to feature it, even though i haven't read it yet myself.
Here is more about COURTING DANGER:
Newly installed Pelican Beach, Florida detective Katerina "Kat" Andruko fears the prime suspect will get off in the murder of a teen with the help of the department's forensics psychologist, a man she's just started to trust.
This case has national security implications that gives former US Army Ranger, Dr. Dimitri Garmonin a chance to work with the FBI. The case could give him the chance to obtain the funds needed to expand his small Behavior Analysis Unit. He's unmoved by the chic FBI agent sent to assist but is intrigued by Kat with whom he shares a Slavic heritage.
Kat and her partner detain two wrong suspects, giving the department negative press. The predator turns his anger on Kat, targeting her. Can Dimitri use his profiler skills to catch this killer before he hurts the woman he's growing to love?
Interview with Nike:
Q: How did you come up with the idea for this novel?
A: The seed for COURTING DANGER was given to me — or came to me out of the news. The two main characters are of Slavic heritage. Katerina "Kat" Andruko not only has a Ukrainian bloodline, she spent two years, as a teenager, in Ukraine after her parents' premature deaths. Dimitri Garmonin was born in Russia to political dissident parents and came to America as a child. My own Slavic/Baltic heritage is Ukrainian, Czechoslovakian, and Croatian. When Russia was invading Crimea, I saw photographs of unarmed Ukrainian Orthodox Priests, in their robes, standing in front of the invading Russian tanks. Some held a Bible, others a cross. It was sort of, "You have to get through us firsts before you can get to the people." Those photographs are seared into my consciousness. I knew I'd write a story about a Ukrainian American woman who doesn't trust Russians and yet she's falling in love with a Russian born man…as they try to stop a wanton killer. That's how Det. Katerina "Kat" Andruko and forensic psychologist Dimitri Garmonin, Ph.D. came to be.
Q: Are these books part of a series?
A: Yes, and they're also stand alone. COURTING DANGER is number three in the Authorized Operations (AO) series. This the over-arching series which has a national security theme. The Veronica "Ronnie" Ingels/Dawson Hughes novels are a trilogy within Authorized Operations: HARMFUL INTENT, DEADLY DESIGNS, BLOOD SPEAKS. At this point, I know the Katerina "Kat" Andruko/Dimitri Garmonin novels will be a duo, as I already have the second one in the works. If I'm inspired in that direction, it could also turn into a trilogy.
In a way, it's more than a series. Veronica "Ronnie" Ingles has a 50-something, plus size BFF in her series. I gave Bertha a college freshman niece and wrote THAT SPECIAL ONE, a Christian New Adult Romantic Suspense. So, the detective/romantic suspense novels are a series, but I've created a little world with its own cities, which is so fun. I have two cozies in mind I hope are as hilarious on paper as they are in my mind. I'm looking forward to writing some really funny novels.  Those are the future plans. Wish I could write faster.
Q: What are your thoughts on good/bad reviews?
A: Of course, we all love five-star reviews. I've overwhelmingly gotten four-and-five-star reviews. And I thank God for that. I guess my pet peeve with reviews is when the reviewer destroys a novel, and you wonder did they even read it? That happened years ago to an author friend of mine. A reviewer killed her novel, going on and on. I thought, that person didn't read the same novel I read. Where are they getting all this nonsense? The only thing I could do was write a really honest and positive review for that novel.
Thank you so much for this interview Nike! all the best with this new release!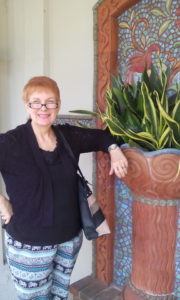 Bio:  Nike N. Chillemi writes contemporary detective and/or suspense novels with a touch of wry humor, and there's often a national security twist to them. She likes her bad guys really bad and her good guys smarter and better. Her newest endeavor is COURTING DANGER.
Nike is the founding board member of the Grace Awards and its Chair, a reader's choice awards for excellence in Christian fiction. She has been a judge in the 2011, 2012, 2013, 2014, 2016, and 2017 Carol Awards in the suspense, mystery, and romantic suspense categories; and an Inspy Awards 2010 judge in the Suspense/Thriller/Mystery category. Her four novel Sanctuary Point series (out of print), set in the mid-1940s has finaled, won an award, and garnered critical acclaim. The first novel in the Veronica "Ronnie" Ingels/Dawson Hughes series HARMRUL INTENT won in the Grace Awards 2014 Mystery/Romantic Suspense/Thriller/Historical Suspense category. She has written book reviews for The Christian Pulse online magazine. She is a member of American Christian Fiction Writers (ACFW) and John 3:16 Marketing Network.  http://nikechillemi.wordpress.com/
Purchase COURTING DANGER on Amazon:
Facebook: https://www.facebook.com/nike.chillemi
Twitter: @NikeNChillemi