Eighteen months ago I underwent open heart surgery. Before that happened, God revealed some very interesting things to me about how my physical condition paralleled spiritual issues. The short version is, God showed me through a vision that I had some areas that needed attention, namely FEAR, DOUBT, ANXIETY, and PRIDE. These paralleled exactly the four clogged arteries that showed up in my angiogram.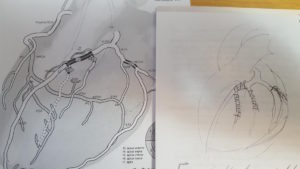 That was a year and a half ago. In that time, God has given me an uncanny sense of peace despite difficulties as well as an implicit trust in His timing – no matter what.
Except…
Recently, I have found myself beginning to feel stress. I chocked it up to a new job after retiring from teaching public school, coupled with taking on the position of President of InScribe, a Christian organization for writers of faith. I had a busy autumn of conferences and then in October, just when I thought life would settle down, a friend and I got the bright idea to start a performing arts group and put on a Passion Play next Easter. Did I mention I also decided to put my name in to substitute teach at the local high school?
All of these things, while making me busy, have actually just provided an excuse for not trusting Jesus. I was suddenly feeling a lot of stress. Anxiety had crept back in. I was still doing my usual devotions each day, but I was finding it to be more of a task to check off my list rather than a time of replenishment.
While this was happening something else was also taking place. Where I had been almost militant about watching what I put into my mouth, choosing only low fat and low salt foods that were not too refined, I was finding myself eating "just a little" of some of the foods that I had up to that point been avoiding. My principle had been that I would eat what was put before me if I was visiting, for instance, but somehow this started creeping into my own preparations. We also started going out to more restaurants again, too – a difficult place to find heart friendly options.
But that's not all. After a very rigorous course of cardio rehabilitation that included ten weeks of increasingly difficult physical training, I was probably in better shape than I had been for years. I continued with my exercise regime faithfully for months afterwards… until this fall. Suddenly, all the 'busyness' seemed to be getting in the way of my exercising. Again, this was nothing more than an excuse. If the truth be told, it was more about sleeping late in the mornings because of staying up too late watching netflix, not the other 'busyness', that was taking me from continuing in a healthy lifestyle.
Bottom line, after binging on chocolate bars a few days before Halloween (they were in the house waiting to be given away), and then sleeping in past ten one morning, I'd finally had enough.This wasn't how my wonderful 'retirement' was supposed to be! What was happening to me? I got on my knees and cried out to God.
And He showed me something.1 Corinthians 5: 16 says,  "Your boasting is not good. Do you not know that a little leaven leavens the whole lump?" (ESV)
I had allowed PRIDE to creep back in. I had felt pretty proud of the fact that I genuinely didn't feel stress and anxiety anymore. "God bypassed all fear, doubt, anxiety, and pride," i liked to repeat – and I believed it. Except, I think I started saying it in the wrong spirit. Instead of one of humility, it became a source of pride for me.
The second part of that verse also spoke to me. Just like I had allowed "just a little bit" of previously 'banned' food to pass through my lips, so it expanded to the point of not being able to stop myself from eating food that wasn't good for me. The same was true of my exercise routine, my sleep patterns – basically all the positive lifestyle choices that had sustained me for more than a year! And with that I was also sliding down the slippery slope of letting negative spiritual characteristics influence my JOY and sense of PEACE.
I believe the two go hand in hand. A little leaven works its way through the entire batch, whether we are talking about physical things like over eating and exercising, or spiritual principles like allowing anxiety or pride to steal our joy.