One thing I really missed last year when I retired from teaching public school was Drama. I had been directing and producing two plays each year for nearly twenty years, so it was no surprise that I felt a bit lost when I didn't have the excitement of opening night in my life.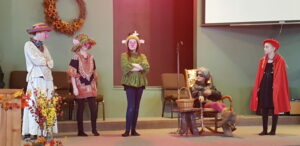 To compensate (and because I think Drama is one of the best ways to learn so many life lessons and skills!) I offered to put on a six day 'Drama Camp' for students enrolled in the Distributed Learning School where I now teach.
I think I had as much fun as the kids (maybe even more!) and despite the work involved, it felt so good to be back doing what I love! We put on a production of my play 'LITTLE RED IN THE HOOD',  a fun fairy tale adaptation with an anti-bullying message that I wrote several years ago. This is the third time I've staged it myself, but it has been produced all across North America.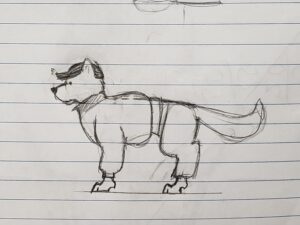 One boy, who was cast as 'Little Wolf', drew a picture of what he thought his character would look like. Isn't it awesome?! In any case, we had a great time, the kids learned many great lessons about theatre – and about life – and the final show went off without a hitch!
Sadly, the publisher is no longer printing any more plays, but you can still order directly from me.