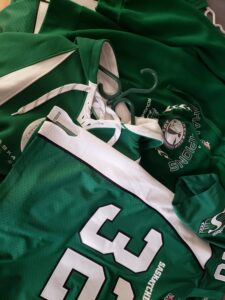 For CFL fans the Grey Cup is the pinnacle of the football season. For those that know me well, you will know that I am a die-hard Saskatchewan Roughriders fan. (If you come from Saskatchewan, no matter where you live now, you are born and bred to bleed GREEN.)
This year my Riders almost made it to the Grey Cup. They played a fabulous season with one of the best records in the league (and the best 'new' head coach, in my opinion) but unfortunately lost to the Winnipeg Blue Bombers in the Western Final, meaning they missed the Finale by one game.
Winnipeg and Saskatchewan are arch rivals, playing the 'Labour Day Classic' and subsequent 'Banjo Bowl' every fall – two matches that pit these western teams against one another amidst fan and broadcasting hype like nothing else in the league. (And perhaps in any sport.) Winnipeg is our closest rival both in terms of geography and also in terms of past history. To say the atmosphere contains some good natured animosity would be an understatement.
Except there is a strange thing about that rivalry. When it comes to the Grey Cup, no matter who beat my Riders to the finale, I am going to cheer for the western team every time. I can't help it. It reminds me of sibling rivalries. No matter how much siblings may fight and compete against one another, at the end of the day, an outsider better not come into the house and try to upset one of the family! That's when siblings stand up for one another, no matter how heated the previous competition.
That's kind of how I feel about Winnipeg. Although I love to 'hate' them during the regular season. I'm cheering for them all the way at the Cup! (One of my daughters was born in Winnipeg, so maybe I'm obligated…?)
Anyway, Winnipeg beat the Hamilton Tiger Cats quite decisively, and I was happy to see Winnipeg win… until next year. Then bring on the rivalry once again!