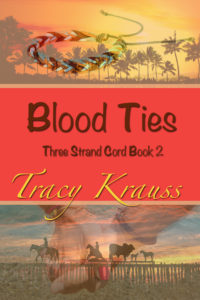 BLOOD TIES – the sequel to THREE STRAND CORD is finally available online! (Soon to be followed by the paperback!)
What took so long? Well, I'd like to say that ongoing illness, busyness, and other factors were the reason (some of which is true) but in reality, procrastination and plain lack of motivation were the real culprits. I sent the original manuscript to beta readers about a year ago in hopes of having it edited and published by the summer of 2019.
That didn't happen, obviously, but when I realized that if I didn't get my behind in gear, 2019 would come and go as the first year in ten years that I wouldn't have something published. That just wasn't acceptable, so I got in gear, put my butt in the chair, and revised and edited like a crazy person for the past two weeks. The result? BLOOD TIES is here! Hooray!
I think that the timing is just perfect, however. Having some time away from the original manuscript gave me some insight and perspective that I think would not have come had it released any sooner. I made substantial changes to the original, based largely on beta reader feedback, so I am very grateful to the women (and one man!) who read the first version and gave me their thoughts. Read the blurb and check out the buying options if you are so inclined.
Socialite Cherise Hillyer has a terrible track record with men. When she falls for cowboy Blue Shepherd, she knows it will only be a matter of time before her wandering eye turns elsewhere, so she abruptly ends the relationship. Blue's rebound turns out to be a vengeful woman who threatens to ruin his life when he doesn't reciprocate her feelings. Meanwhile, Cherise and her brother Dirk get drawn into a drug smuggling operation while volunteering at an orphanage in Mexico. Through their trials, all three learn that human love is no substitute for the unconditional love of God. BLOOD TIES is the sequel to THREE STRAND CORD, following the lives of three characters tied by blood as they search for true love amidst danger, intrigue, and their own human frailty.
Available at:
Amazon; Kobo; Nook; Smashwords and more! Just click THIS LINK to see all options.