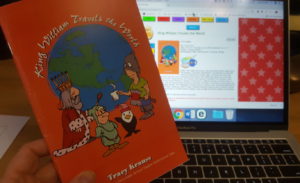 This one crept up so unexpectedly I almost missed it! A new stage play that I co-wrote with some students has just been released by BIG DOG PLAYS!
KING WILLIAM TRAVELS THE WORLD is hilarious if I do say so myself! It follows the antics of a pompous monarch who decides to see the entire world – in one go! We laughed when we wrote the play and I still couldn't help laughing out loud each time I had to proof the script.
You'll see a few pictures from the original production from back in 2013 at the bottom of the page. I pitched this one to various publishers quite some time ago, and signed a contract for publication last fall. A year later, here it is, almost flying under my radar!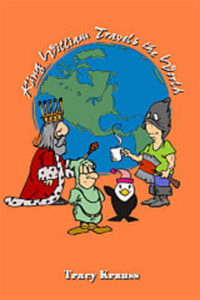 BLURB: The laughs never end in this zany Monty Python-esque farce. The pompous, narcissistic King William II has decided to travel the world accompanied by a snarky liege, a ridiculous yes-man with terrible pick-up lines, and an overzealous executioner who inexplicably shows up at the most opportune times. Along the way, the travelers meet a generic Canadian Prime Minister, some American gun-toting hillbillies, a penguin in Antarctica, a Vegemite-eating crocodile hunter in Australia, and the Supreme Ruler of Korea in the North who likes to brag about his golf game and his cardboard missiles. Trip "highlights" include hitting an iceberg at sea, mistaking baguettes for swords in France, eating raw food in Tokyo, drinking turpentine-tasting coffee in Russia, and the unexpected arrival of a zombie horde in England. Easy to stage with scene-stealers for everyone in the cast!
Go to the dedicated page for selling options, or click directly to BIG DOG PLAYS.